If you're a seasoned vet or a new to the world of retailing, you've heard the term "gondola shelving." Of course, as a store fixture provider, we're not talking about the gondolas seen floating around in the beautiful city of Venice, Italy. No, we're here to discuss the display mainstay in the retail industry for over 75 years, gondola shelving, and all the different options.
The reason gondola shelving units have been so popular with retailers in serving many different industry segments can be summed up in one word, versatility. With different sizing and color options available, retailers can order their gondola fixtures to match their retail space and branding.
Gondola shelving units are crucial to maximizing your retail display space. By adding them to your store, you instantly expand the square footage of the available area to merchandise your products. This article will discuss different options when ordering your gondola shelving displays.
Slatwall Back Panels
The most common back panels for gondola shelving are perforated board, or as most call them, pegboard. These are very common in convenience stores and pharmacies. For retailers looking for an elegant, upscale look to their display fixtures, slatwall back panels are the preferred choice. Slatwall panels are durable and can hold heavier merchandise than other display fixtures, especially when metal accessory rails are inserted into the channels.
Slatwall, also known as a back paneling with horizontal grooves or slats, is a building material that features horizontal grooves. They can be found in many forms, including wall panels and freestanding fixtures. The majority of slatwall is medium-density fiberboard (MDF), with various finishes including unfinished/paint-grade, melamine, low-pressure laminate (most commonly), real wood veneer, and high-pressure laminate.
Gondola Extender Kits
For some retailers, merchandise space is limited. If you're operating a smaller-sized location, you will be limited in size to the length of gondola runs. Many retailers aren't aware that when space is at a premium, you can increase the height of your shelving units using gondola extender kits. You are spending rent on all of your space, not just the first 54″ from the ground.
These extender kits are affordable and provide retailers with numerous display opportunities within a store. They can be ordered to match the existing colors of your gondola shelving, and most people won't even realize that these kits are attached to the units. For retailers concerned about security, extender kits can be fitted with gridwall panels, which will allow your employees to view each customer in the store.
Gondola Dolly System
As a store fixture provider, we constantly ask our customers how we can do more with my gondola shelving units? Meaning, how can these already extremely versatile display fixtures become more versatile. The answer is a gondola dolly system. These fixtures are very well designed to the point where you can't even tell that a durable caster system is attached to the gondola shelving unit.
Merchandising flexibility is a critical aspect of retailing, and which these mobile units, retailers can easily move their gondola shelves around the store without disturbing any other display. These merchandising units are great for highlighting seasonal displays that increase impulse sales.
Offset Units
Here is something some retailers might not be aware of when ordering new gondola fixtures. When working with suppliers such as the Shelving Depot, you can offset your gondolas to help meet the demands of your store plan. Think about it, every store is different, and if you can add merchandise space to your location, you should take advantage.
Offset gondolas are when you have two different-sized base shelves. Let's take the example of a local convenience store looking to increase impulse sales. What if you can offset your fixtures to merchandise health and dental products on one side of the gondola display, and on the other, you can effectively display gallons of water? The retailer who thinks merchandising first will reap the rewards of intelligent store planning decisions.
See-Thru Gondolas
See-thru gondolas come in many forms, and they are precisely what the name entails, gondola shelving units that allow you to see-thru the fixture. You might be wondering why anyone would add an empty area within their shelving display. The answer, of course, is to add more merchandise space so you can sell more products and increase your revenue.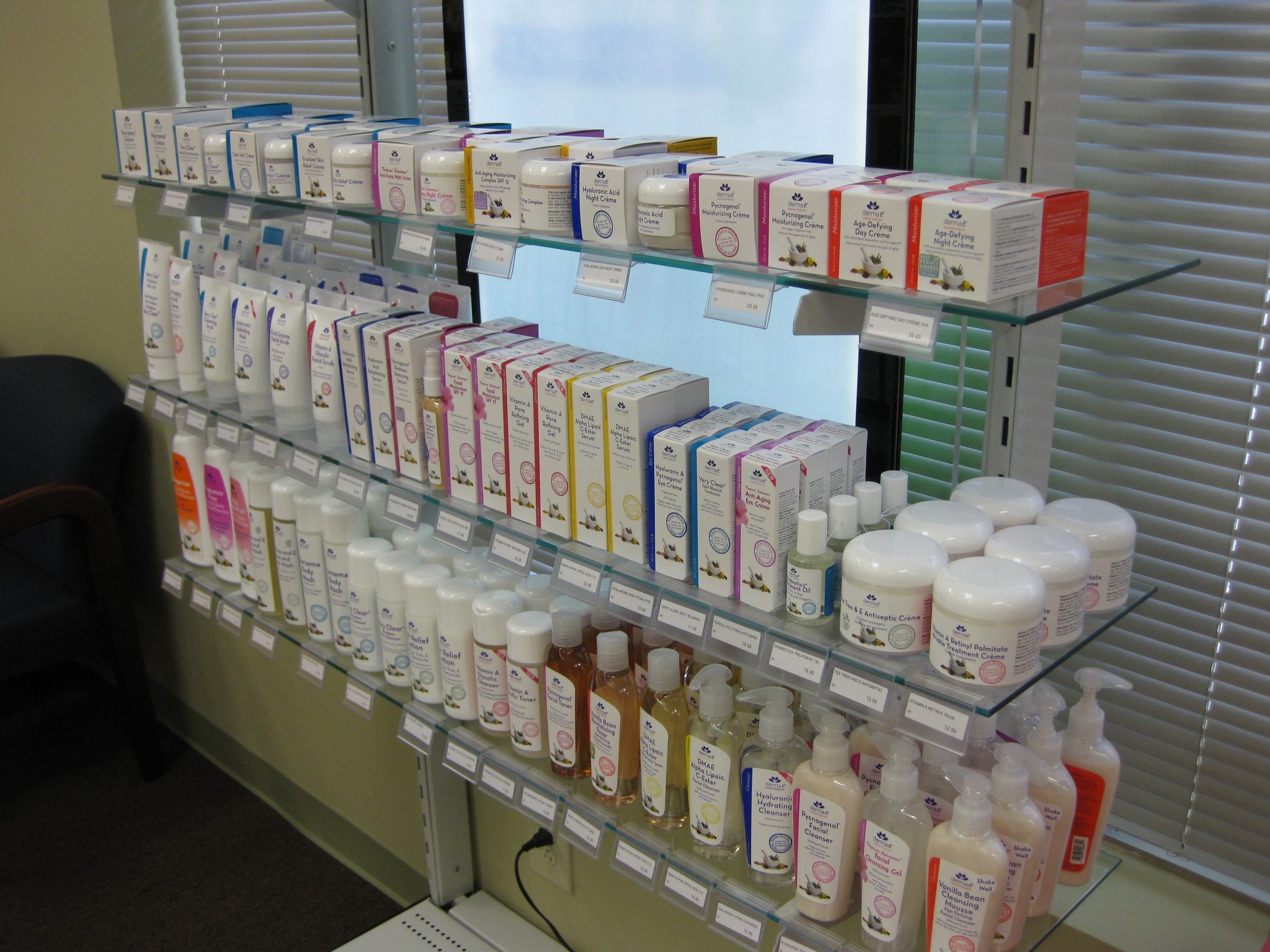 If we take an independent pharmacy as an example, the most common height for a gondola fixture is either 54″ or 60." Often, retailers want to have the ability to see the customer walking thru the aisles of their store for security purposes. With see-thru gondolas, you still have that functionality, only this time with an extra area for merchandise on top of the viewing consumer space. This is a perfect area to utilize perforated board hooks to add tie-in sales to your merchandise plan, giving you the comfort of quickly viewing your customers within your store.
As you can tell, not all gondola shelving units have to be the same. In fact, as store design experts with over thirty years of experience working with independent retailers, we recommend retailers differentiate their business. One of the most effective ways is thru its retail gondola shelving. Contact the Shelving Depot today to learn more and make your store more profitable.